Silica Gel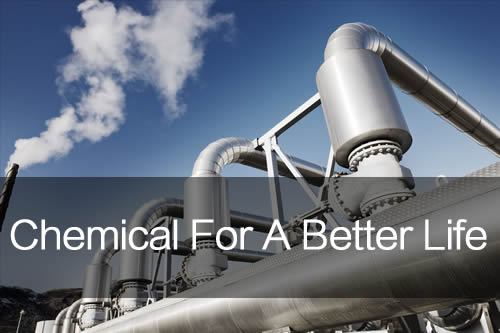 1. Silica Alumina Gel
2. Water-Resistent Silica Alu-Gel
3. Color-Variable Silica Gel
4. Blue Silica Gel
5. Silica Gel Plates
6. Silica Gel for Column-layer Chromatography
7. Thin Layer Chromatography Silica Gel
8. Silica Acid
9. Fine-pored Silica Gel ( A Type Silica Gel )
10. Silica Gel Type B
11. Macro-pored Silica Gel
12. Silica Gel for Beer
13. Silica Gel for Variable-Pressure Adsorption
14. Silica Gel FNG
15. Macro-pored Micro-spherical Silica Gel
16. Silica-Gel-Drying Tablets
Application:

magnetization and cracking catalyzer or carrier of catalyzer of the petrochemical,dehydration and decontamination of petrochemical,dehydration and purification of the refined industry,reverted application of hydrocarbon,dryness of industrial gas/air decontamination,dryness and decontamination of natural gas,abruption of chemical industry,carrier of essence or aroma,dampproof drier for packing,household air freshener and odorant removing agent and stuff for pet.
Specification:
硅胶质量指标
SILICA GEL
Specification Sheet

 
SGA
SGB
SAD
SA
SBD
SB
备注 Remarks
孔容 Pore Volume (ml/g)
0.4 ~ 0.45
0.70 ~ 0.75
1.15 ~ 1.35
1.3 ~ 1.5
1.60 ~ 1.70
1.80 ~ 2.0
水方法H2O Method
pH
4.0 ~ 6.0
6.5 ~ 7.5
6.5 ~ 7.5
6.5 ~ 7.5
2.5 ~ 4.0
3.1~3.5
5%溶液 5% Solution
水份 Moisture (%)
5 max
5 max
6 max
60~65
6 max
60~65
160℃1个小时160℃ 1HR
比重 Bulk Density ( g/ml )
0.66~0.72
0.55~0.59
0.35~0.38
0.35~0.38
0.27~0.30
0.27~0.30
轻拍TAPPING
白度Whiteness
95 up以上
95 up以上
95 up以上
95 up以上
95 up以上
95 up以上
白度测试Whiteness Tester
比表面积Surface Area (㎡/g)
550 ~ 650
500 ~ 600
260 ~ 340
260 ~ 340
260 ~ 340
260 ~ 340
比表面积方法BET Method
Na2SO4 (%)
0.1 max
0.1 max
0.3 max
0.3 max
0.5 max
0.5 max
导电率方法Conductivity Meter
尺寸 Size type
3mm以下 块状 3mm below Lump
3mm以下 块状 3mm below Lump
3mm以下 块状 3mm below Lump
3mm以下 块状 3mm below Lump
3mm以下 块状 3mm below Lump
3mm以下 块状 3mm below Lump
 

Packing:
10kg/15kg/20kg/25kg/300kg/350/600kg/800kg/bag PP outside and PE inner, 7MT/16MT//20FCL., 12MT/14MT/24MT/40'FCL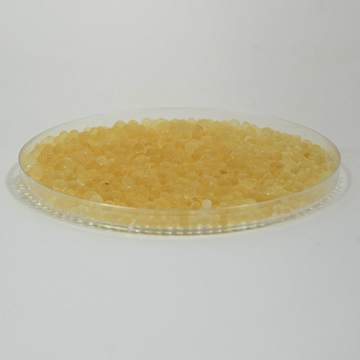 Chemical molecular formula:mSiO2.nAl2O3.xH2O

Standard Packaging: 25kg/bag

It-is chemically stable,flame-resisting,insoluble in any solvent except strong alkali or hydrofluoric acid.Superficial polarity,thermal stability,performance of adsorption and separation are all better than that of fine-pored silica gel.
With higher surface area and drying ability,the absorbent is being widely used in many fields. For its 

higher compression strength and lower rattier loss,it has longer life and higher performance-value ratio 

than fine-pored silica gel.As protective layer,about 20%(wt) is suggested when liquid water exits in the System

●drying of compressed air

●drying of natural gas

●drying of gas

●drying of liquefied gas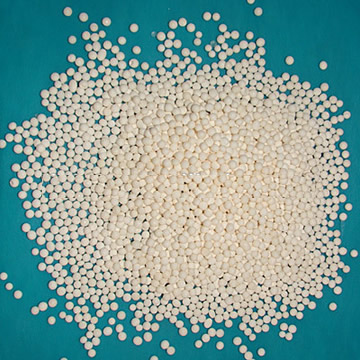 Water-resistent Silica Alu-Gel
Silica gel is a kind of high-active absorbing material, which is generally obtained by reaction of sodium silicate and sulfuric acid together with aging, acidic soaking and other series of post-processing. Silica gel belongs to amorphous substance and its chemical formula is mSiO2 . H2O. With stable chemical property, it won't burn and won't dissolve in any solvent except for alkali and hydrofluoric acid. Silica gels of various models form different fined-pore structures owing to different manufacturing methods. Additionally, the chemical components and physical structure of silica gel determine that silica gel owns many characteristics which can't be substituted by other materials of same kind, such as high absorption performance, excellent thermal stability, stable chemistry, high mechanical strength and others.

Product Description
Characteristics
This product is a water-resistant silica-alumina gel with fine pores. It is usually used as protective layer of fine-pored silica gel or fine-pored silica- alumina gel, and can be used solely when dissociated water(1iquid water)is in high content. Lower dew point can be true when liquid water exits in system.
Use
It is mainly used as drying agent for air-separation, compressed air and industrial gases, as ethyne absorbent for preparation of liquid oxygen or liquid nitrogen and as liquid absorbent or catalyst carrier in oil chemistry, electricity and brewery industry, especially used as protective layer of common silica gel and silica-alumina gel. About 20%(wt)should be the percent when used as protective layer.
Technical Data:
[Notes](1)Packing and size may be customizd per your specific requirements  
(2)Compression strength has relation with the particle size
Packaging & Shipping
 25kg per compound bag or 500kg per container bag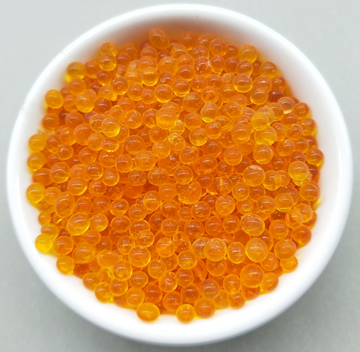 Character: 
Orange silica gel development and the development based on the original blue rubber indicator, it use the new non-toxic compound coloring agent, fundamentally eliminated the coloring agent the pollution which creates to the environment. The product becomes the new generation environmental protection class product by its original creation's processing technology condition and the good adsorption performance. 
Purpose:
The orange silica gel may widely apply in the aviation, the armed forces industry, the high-rise construction, the electric power industry, the goods moisture-proof, civil and so on various domains.
Technical Specification for orange silica gel:
Item

Orange Silica Gel

 

RH=20%

9.0min

Adsorption

RH=35%

capacity %

RH=50%

22.0min

 

RH=90%

Qualified size ratio %

90min

Loss on heating %

3.0max

Color

RH=50%

light orange
 NOTE:The moisture content, packing and size can be adjusted according to customers different requirements.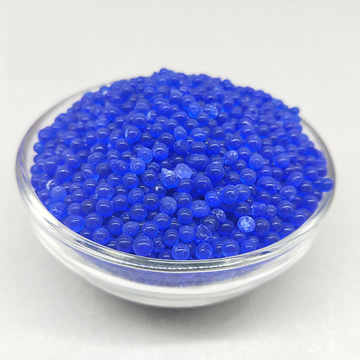 Character: 
Composed of blue gel indicator, allochroic silica gel and blue gel, blue silica gel performs as blue or light blue glasslike particles in the spherical or lumpy shape. It will change its color from blue to red after absorbing moisture.
 Purpose:
1. The gel is mainly used for absorbing moisture for apparatus, instruments, and equipments in airproof condition to avoid them from rusting, and indicating the environmental relative humidity due to its obvious color change. 
2. The gel is mainly used for indicating desiccant's absorbing degree and environmental relative humidity by being mixed with common silica gel in proportion. Besides, it is also widely used in precision apparatus, leather, shoes, garment, food, drug and household electric appliance industries as silicon gel desiccant.
Technical Specification:
Item

Typical Data

Absorptive capacity

RH=20 %

≥8.5

RH=35 %

≥13.6

RH=50 %

≥22.5

RH=90 %

≥31.4

Rattler loss

%

≤ 0.5

Qualified size ratio

%

≥97

Loss on heating

%

≤0.9

Change in color

RH=20 %

Qualified

RH=35 %

Qualified

RH=90 %

Qualified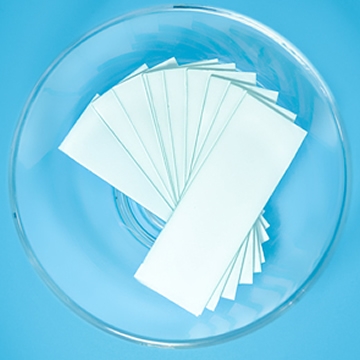 Specifications
Characteristics: 
Silica sol belongs to colloid. It is odorless, tasteless and nontoxic. Its chemical molecular formular is mS
Characteristics:
Aeailable in forms of thin layer chromatography silica gel plate, high efficient thin layer chromatography silica gel plate. They are formed of fine quality thin layer chromaotography silica gel blended with proper adhesive and applied on the glass plates. It has specified pore volume, specific surface area and pore distribution.
Use:
Can be used directly for quick separation of many types of organic substances--for qualitative or quantitative analysis, it has also been widely use for examining the small amount of impurites and the main ingredients in medicines, pesticides, Chinese herbal medicines, organic chemical products, cereals and foods.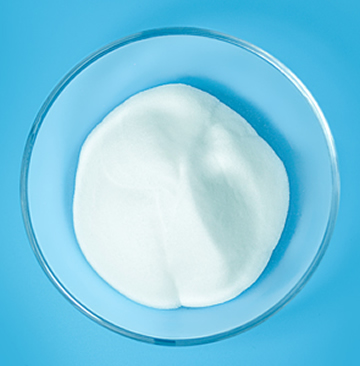 Specifications
1.White grains of homogeneous size. 
2.main ingredient is silicon dioxide.Of high purity. 
3.Safe,clean and Sanitary.
 

General Description:

White grains of homogeneous size.Chief ingredient is silicon dioxide.Of high purity.Secure and Sanitary.Can be used to separate and refine mixed components because different components have different absorption duration on this silica gel. 

Use:

For refinement of petrol products, removal of aromatic hydrocarbon material, separation and refinement of traditional Chinese herbal medicine components, preparation of high purity substance,etc. 

1.Improve the resistant compression,break resistant, impervious,anticorrosive,impact resistance and wear-  resisting property. 

2.Water retention,prevent segregation reduce pumping resistance of concrete. 

3.Remarkably prolong the service life of concrete. 

4.lower the cost and improve durability. 

Application:

1.Used in mortar and concrete. 

2.Used in material industry 

3.Walling materials and finish material. 

4.silicate brick materials. 

 

 Silica Gel Column Chromatography is the most important and widely used techniques for the 
separation and analysis of complex organic mixtures.Silica gel for the column purification of organic 
compounds after the synthesis is done. Used in separation and purification of organic compounds, 
steroids, amino acids, dyes, alkaloids, phenolic compounds and pharmaceutical intermediates.
Silica gels for column chromatography are available in any desired particle size for pilot plant or plant 
applications.
 Application:
 1) Analysis and purification of pharmaceutical, chemical intermediates.
 2) Processing of the spring crude specialintermediate.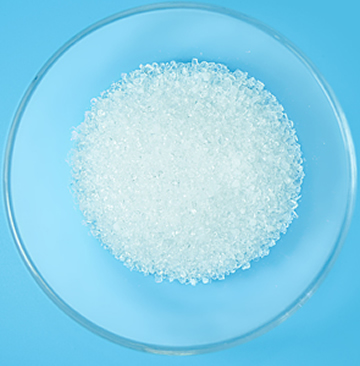 Shape: irregular grains
Color: colorless, transparent glass-like
insoluble in aides ( except for hydrofluoric acid) soluble in caustic alkali solution. compared with silica gel, it cotaines more hydrosyls and is a kind of high-purity reagent silica gel.
Use:
Mainly used for cjemial reagents, fusion agent for processing tungsten fulaments.
Techinical data:
Packing: 500 g net per plastic bottle.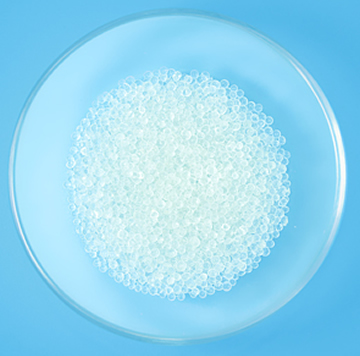 Silica gel with fine pores includes spherical silica with fine pores and massive silica with fine pores. Spherical silica with fine pores has the appearance of colorless or yellow-transparent or translucent spherical particle, massive silica with fine pores is a colorless or yellow translucent glass-like irregular particle.
The average diameter is 2.0-3.0 nm, ratio surface area is 650-800 m2 / g, pore volume is 0.35-0.45 ml / g, ratio heat 0.92 KJ / kg. °C, thermal conductivity coefficient is 0.63 KJ / m. Hr.°C.

Item

Specifications

Typical Date

Adsorption capacity

RH=20%

10.5

RH=50%

23

27.3

RH=90%

34

36.6

Loss on heating,%

2

1.3

PH value

4--8

4.7

Specific resistance,Ω.cm

3000min

6250

Silica %

98min

98.5min

Qualified ratio of spherical granules %

82

90

Size

NA

NA

NA

2-4mm

Bulk density, g/l

NA

NA

NA

780

Note: Qualified ratio of spherical granules is only applicable to fine-pore silica gel.

Mainly used as desiccants, moisture beads, agents to remove smell and all kinds of absorbents. Widely used to control relative humidity of the environment for storage and transport of instruments, meters, instruments equipment, leather, luggage, shoes, textiles, food, medicine and so on. It can prevent items from moisture, mildewing and rusting. Because of their high bulk density and obvious effect to absorb moisture in the case of low humidity, it can be used as air cleaner. They are widely used in the sea transport of ocean because the goods during transport often degenerate owing to temperature, the product can be used effectively to absorb water so that the quality of the goods is ensured.
[SIZES] 0.5-1mm, 0.5-1.5mm, 2-4mm,2-5mm,4-8mm.
[PACKING] 25KG per bag or 500KG per bag.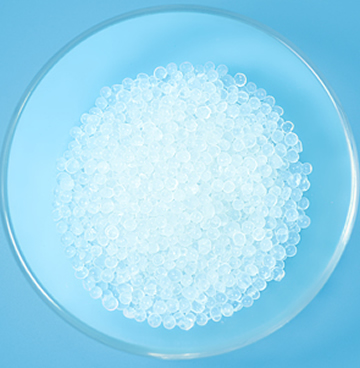 Specifications
1Silica gel is mainly used as liquid adsorbent, desiccant and fragrance carrier 
2 can be used as catalyst carrier,cat litter
Characteristics
Silica gel type B:
1 Shape:pellets or lumps.
2 Color:milky white, transparent or translucent.
3 Pore volume: 0.60-0.85ml/g.
4 Average pore diameter: 4.5-7.0 nm
5 Specific surface area: 450-650m2/g.
6 Structure lying between macro-pored and fine-pored silica gels. 

Use:
Silica gel type B is milky white ,transparent ang translucent pellets or lumps ,mainly is used as liquid adsorbent, desiccant  and fragrance  carrier, also can be used as catalyst carrier, cat sand, etc.
mainly used for air humidity regulator, catalysts and carrier,  and used as silicon gel chromatography of fine chemical products of raw material. Thus desiccant is widely used in the instrument and meter, and instruments, leather, footwear, bags, textile, food, and medicine, storage and transport of the relative humidity control environment, prevent moisture items, mildew and rust. It to package the technical indicators and desiccant for inspection, testing methods have clear rules. The safety performance of the silica gel, silica gel has the very strong adsorption ability, to the person's skin can produce dry effect.
Technical data: 
ITEM

INDEX

typical value
(2-5mm)

superior

first class

absorbment 

RH=20 %  ³

4.0

3.0

6.4

RH=50 %  ³

11.0

10.0

16.0

RH=90 %  ³

70.0

50.0

78.8

loss on heating,   %       £

2.0

2.0

1.2

Specific resistance, Ω.cm

5000

3000

10000

PH  

5.5-7.5

4-8

6.7

bulk density,g/L

518

 

specification: 2--4mm,  3--5mm.

package:15kgcompound bag.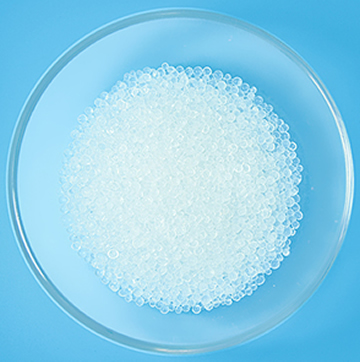 Shape: pellets or lumps
Color: white
Pore volume: 0.8-1.0ml/g. 
Average pore diameter: 8-10nm
Specific surface area: 300-400m2/g
1. used for moisture-proof packing
2. used for dehydration and purification of industrial gases
3. used for removing the organic acids and high polymers in the insulation oils
4. used for adsorbing the high molecular proteins in the fermented products during the industrial   fermenting process
5. used as catalysts and catalyst carriers, etc.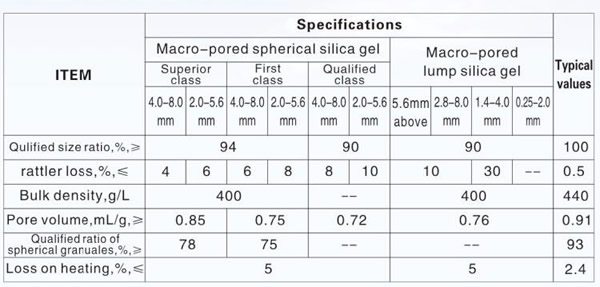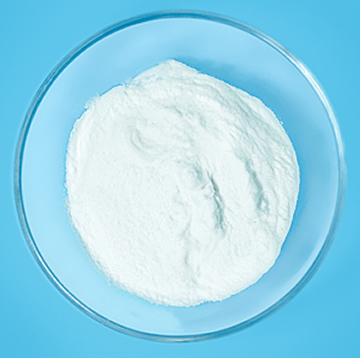 Silica gel for Beer 
 Product information:
It is a kind of non-crystalline micro-porous solid powder,its pore diameter is 8-16nm.Its chemical molecular formula is mSiO2.nH2O,insoluble in water or any other solvent (except the caustic alkali and hydrofluoric acid). It does not react with any acid, alkali or salt. It is nontoxic, tasteless,flame-resisting and nonexplosive.It possesses high stability under hot or cold atmosphere and is harmless to human body,mainly used in beer industry.

usage:
1. It has large specific surface area and numerous fine-pored structure.It adsorbs the proteins which cause beer turbid and removes them through filtering,just within several minutes,thus prolonging beer storage period by 180-240 days and keeping beer from being cold muddy.
2. It does not affect the beer foam or taste.Thanks to its superior physical and chemical properties,it does not have any adverse effect on the beer foam or taste.It generally recognized by the world beer industry.
3. It helps improve the filter promoting effect.It is chemically stable,contains no beer soluble substances,Its surface area and porous structure are both superior to diatomite.It is a kind of ideal filter promoter in aiding diatomite filter,making beer brighter and clearer 
Pack: as per customer's request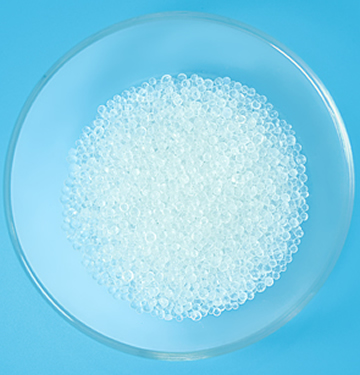 Mainly used for drying water-proof, can also be used as catalyst carriers, adsorbents, separators and variable-pressure adsorbents, etc.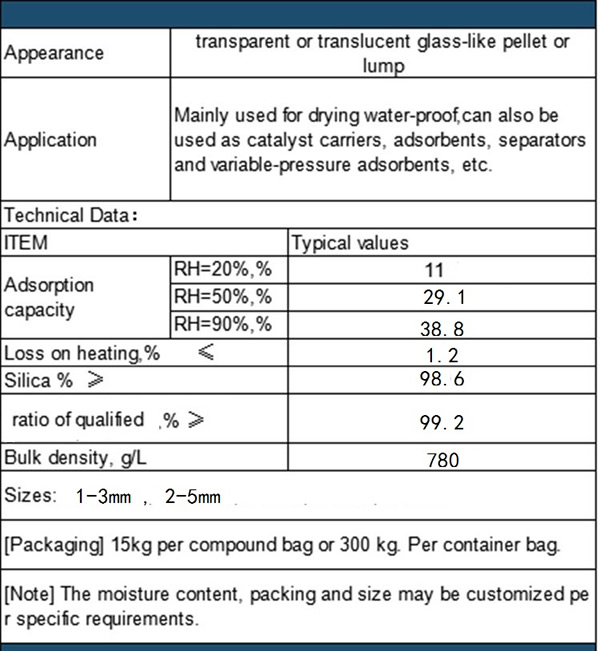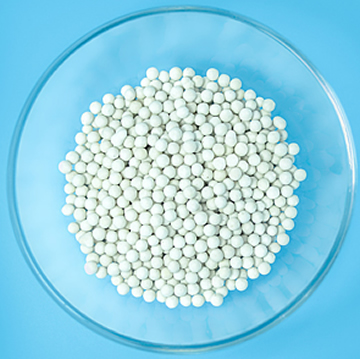 Characteristics:
Shape:Pellets.
Color:white or light gray.
Processed and formed from powders.
Besides the adsorption feature possessed by ordinary silica gel, FNG silica gel possesses good water-tolerant property, low break-down rate of reclamation and long service life, etc.
Use:
Mainly used for air drying in the air separating process, the adsorption of acetylene in preparation of liquidified air and liquidified oxygen. It is also used for drying compressed air and various industrial gases. In petrochemical industry, electric power industry, brewing industry and other industries, etc., it is used as liquid adsorbent and catalyst carrier. It may also be used as the buffer drier, silica sand etc. for ordinary silica protective bed.
Technical Data:
 
ITEM

specifications

Typical values

FNG——Ⅰ

FNG——Ⅱ

First class  

Qualified

First class

Qualified

FNG——Ⅱ

Qualified size ratio, % ≥

90.0

85.0

90.0

85.0

91.0

Compressive strength, N ≥

40

30

40

30

40

Wear and tear ratio, % ≤

2.0

5.0

2.0

5.0

1.5

Bulk density, g/L

600—700

600—700

400—500

400—500

480

Qualified ratio of spherical granules, % ≥

95.0

90.0

95.0

90.0

96.5

Loss on heating, 170℃ 2hr.% ≤

3.0

5.0

3.0

5.0

2.6

Non-breaking ratio in water, % ≥

95

90

95

90

98
[Size] 2-5mm,4-8mm
[Packaging] 20kg or 25kg per compound bag, 500kg per container bag.
[Notes] packing and size may be customized per your specific requirements.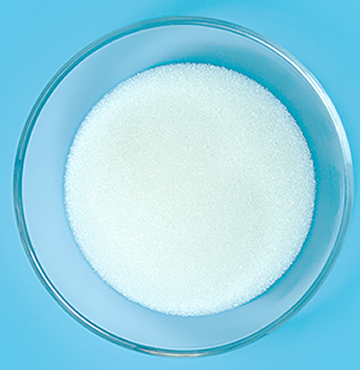 Shape: Pellets
Color: white, transparent or translucent
Avaerage pore diameter: 8-12 mm
pore volume: 0.8-1.1ml/g
specific surface area: 300-600m2/g
specific heat: 0.92kj/kg.degree
Thermal conductivity: 0.167kj/ml.hr.degree
Physically and chemially stable
good thermal stability, high mechnical strength.
Used as catalyst or catalyst carrier in the manufactuing of hte important induwtrial products, such as cyanuramide, benzene anhydride, maleic acid anhydride, butadiene rubber, acrylic nitrite, etc.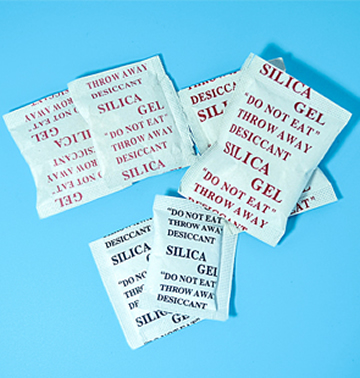 Shape: Flakes
Color: white
Nontoxic, tasteless , safe and clean, having strong drying and anti-mildew effects. the first of its kind made in china for medical and food purposes.
Use:
Used for moistureproof of bottled medicines and foods to make the articles contained dry and avoid the rowth of a variety of mildews.
Used as drier in ordinary packing for mostureproof.
Notes:
Packing and specificaiton maybe customized per you specific requirements.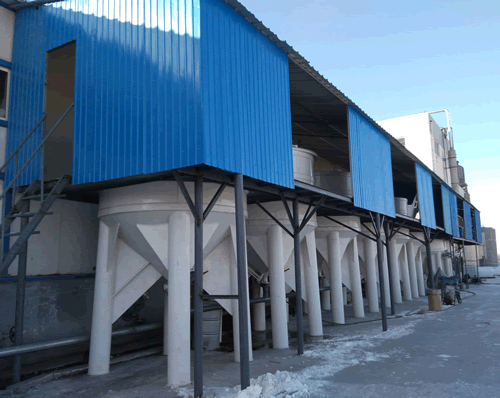 H.S.No.:
2811 2210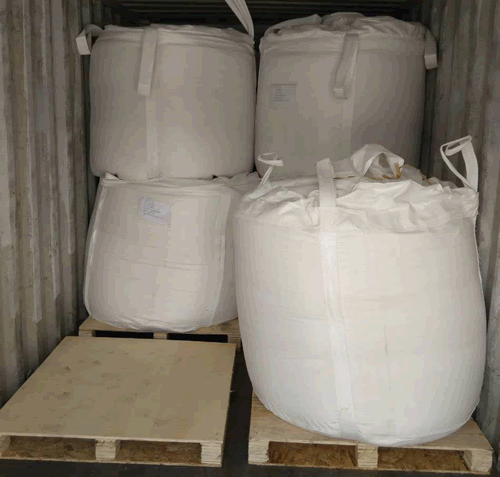 Please click below picture to find detailed
information of Silica Sol: